Going to the Holy Land and walking in the steps of the Lord is a one-time experience never to be forgotten. As a resident of Nazareth in Galilee, I will show you first-hand the footsteps of Christ: from where it all began in Bethlehem, through Nazareth and His ministry in Galilee up to that fateful week in Jerusalem and after. You will go to those "extra" places that the tour buses don't.
Contact me for more information, or to book me as your private tour guide in Israel.
Here's a sample itinerary:
Day 1:
Arrival Ben-Gurion airport. Transfer to Tel-Aviv. Overnight there.
Day 2:
A short drive to the ancient port of Jappa (Yaffo). This is where Jonah set off to meet the leviathan. Visit St. Peter's church where Peter saw the vision of the clean and unclean animals and where he brought back to life the young woman Dorocas ( Talitha Kummi ). Visit the artists colony and then it's on to Caesarea Marittima, once the capital of the Roman Empire and visit the 2000 years old theater and aqueduct. It was here where St. Paul was in prison and where Cornilus the Roman soldier was baptized. Then drive to Mount Carmel to visit the church built over the site where Elijah the prophet had the contest with the false prophets of the Baal. Overnight in Tiberias.
Day 3:
We start off with a morning boat cruise on the Sea of Galilee and reach Tabcha, the Church built on the site of the Multiplication of Loaves and Fishes. Then we drive on to the Mount of Beatitudes, the site of the Sermon on the Mount. On to Capernaum, home base of Jesus' Ministry. See the ancient synagogue next to the Domus Ecclesiastes, Peter's first church. After a lunch of St. Peter's Fish at Kibbutz Ein-Gev, it's on to the Yardenit Baptismal site. Overnight in Tiberias.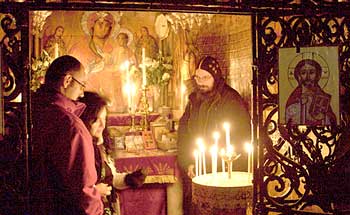 Day 4:
Visit the city of Beit Shean. One of the largest archaeological parks in the world. We stop at Mount Tabor, scene of the transfiguration. Then on to Nazareth, Church of the Annunciation and Synagogue Church. A stop at Mary's well and end the day at Cana, the place of Jesus' first miracle. Drive to and overnight in Jerusalem.
Day 5:
We begin our tour of Jerusalem at the top of the Mount of Olives to enjoy a breathtaking view of the Old City, and the Temple Mount. On to the Garden of Gethsemane the site where Jesus was arrested, see the church of Agony known also as the church of All Nations. Entering St. Stephan's Gate, see the Pools of Bethesda, while walking the route of the Via Dolorosa to the Church of the Holy Sepulcher. After lunch, we go on the Garden Tomb Overnight in Jerusalem.
Day 6:
Begin at the Cenacle, room of the last supper. Walk to Temple Mount and then the Temple Excavations Western Wall (Kotel) and Wall Tunnels. Lunch in Jewish Quarter and a visit to the Cardo and shops, and finish the day at Bethlehem. Overnight in Jerusalem
Day 7:
Departure