A Bar/Bat Mitzvah tour should be more than a family vacation. It should combine adventure, challenges, sights and sounds that not only will bond the family, but will be something to share for years to come. Let me plan this unique experience. From rafting down the Jordan River, to reading the Parasha next to the Western Wall in Jerusalem to Scuba diving together with dolphins in the Red Sea. These are things that memories are made from.
Here's a sample itinerary:
Day 1:
Arrive Tel-Aviv. Check in to Hotel. Optional: Evening stroll and supper at Yaffo port. Overnight in Tel-Aviv.
Day 2:
See the sights of Tel-Aviv; Tel-Aviv University, home of the Diaspora Museum. Drive up coast to Caesaria. Visit Artists colony at Ein-Hod. Overnight in Haifa.
Day 3:
Golan Heights: Kayak tour of Jordan, Mt. Bental and Valley of Tears.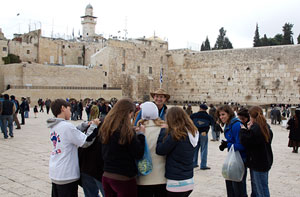 Day 4:
Haifa. Visit the newly opened Bahai Hanging Gardens; German Colony;  then on to the Old City of Acre and then to Rosh Hanikra. Overnight in Haifa.
Day 5:
Drive to Beit Shean and visit a truly awesome Roman city. Continue to Jerusalem. View the city from the Mount of Olives and then to the Haas Promenade. Check in to Hotel in Jerusalem.
Day 6:
Yad Veshem Holocaust Museum; Israel Museum Shrine of the Book; 2nd Temple Model; Knesset and Menorah; Overnight in Jerusalem.
Day 7:
Bar Mitzvah at Kotel. Tour of Old City and Jewish Quarter with guests and festive lunch at Hotel. Western Wall Tunnel tour and Arab Market. Overnight in Jerusalem.
Day 8:
Dead Sea, Spa at Ein-Gedi, Masada and Nature Hike and Nahal David Waterfall. Overnight at Ein-Gedi.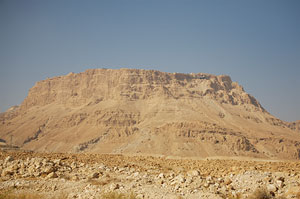 Day 9:
Off-road in Judean Desert, lookout from Mt. Sodom, Park Timna on way to Eilat. Overnight in Dan Hotel, Eilat.
Day 10:
Introductory Scuba lesson with dolphins, visit coral Reef Underwater Observatory. Overnight in Eilat.
Day 11:
Camel tour in Eilat Mountains; Shopping in Duty-Free Mall.
Day 12:
Sunbathing on Dan Hotels private beach on Red Sea. Overnight in Eilat
Day 13:
Back north to Beer Sheva via Jeep Tour Ramon Crater. Overnight in Tel-Aviv.
Day 14:
Departure.