I'd like to invite you to see Israel with your own personal guide, staying in small, intimate boutique hotels and not only seeing the main sites, but also going to those places the regular tours don't go to. From meeting you at the airport, taking you to the hotels I can arrange to seeing Israel "up close and personal," let me take care of everything. You just sit back and enjoy.
Here's a sample itinerary
Day 1:
Arrive Tel-Aviv. I meet you at the airport and take you to your hotel in Tel-Aviv. Spend a relaxing evening in Jaffa (Yaffo) and visit the old quarter. Overnight in Tel-Aviv.
Day 2:
Jerusalem. Yad Vashem; Israel Museum: The Shrine of the Book and Model of the 2nd Temple. Knesset and Giant Menorah. Ein- Kerem. Overnight in Jerusalem
Day 3:
Jerusalem, the Old City: Jewish Quarter, the Burnt House; Jerusalem Archaeological Park& Davidson Center; Tunnel Wall Tour; Temple Mount, Arab bazaar. Overnight in Jerusalem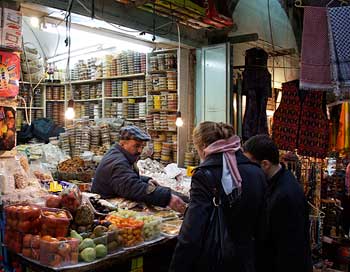 Day 4:
Dead Sea. Qumran (Where the Dead Sea Scrolls were found); Masada, Ein-Gedi Spa and dip in the Dead Sea. Visit the Botanical Gardens of Kibbutz Ein-Gedi, Nachal David Waterfall. Overnight in Jerusalem
Day 5:
Drive up Jordan Valley to Beit Shean. Visit Crusader Fortress of Belvoir. Tiberias: Cruise on the Sea of Galilee. Overnight at Tiberias.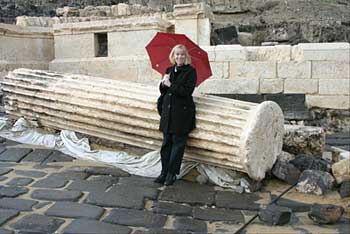 Day 6:
Golan Heights. Visit Ancient Katzrin; Golan Winery; On to Kibbutz Merom Golan to pick and eat fresh apples or cherries; where you can see the suburbs of Damascus from Mt Bental; Valley of Tears Battlefield: Where one man saved the State of Israel. Overnight in Haifa
Day 7:
Haifa: Bahai Gardens. Akko: Crusader city and on to Rosh HaNikra. On to Caesarea.Overnight in Tel Aviv
Day 8:
Transfer to Ben-Gurion Airport for flight home.