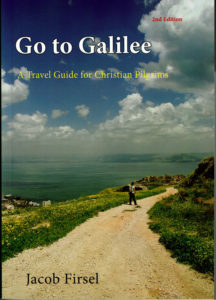 "Go to Galilee" (New, 2nd Edition) is all you need to follow in the footsteps of Jesus. Five different tours take you to all the sites of His ministry in the Holy Land.
Join experienced tour guide and television personality Jacob Firsel as he takes you, step by step, not only to the sites of all the miracles in the Galilee, but also where to stay, eat, and have the experience of a lifetime.
New, 2nd Edition
192 pages
Jacob Firsel Publishing
List Price $25
Buy directly from the site and enjoy a 10% reduction.
$22.50 plus shipping (shipping is $5.00).