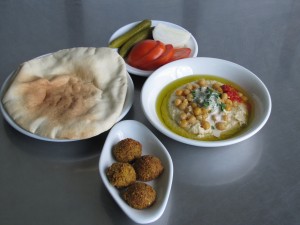 Falafel is a dish consisting of deep-fried balls of mashed chickpeas onions, parsley and garlic, seasoned with coriander and cumin. The balls are then put into a pita usually with "Israeli-stlye" salad (chopped cucumber and tomato) and French-fries (chips). Any self-respecting falafel joint with have a self-service small buffet of tahini (a sauce make of sesame seeds), hot chili pepper sauce (schugg), sauerkraut, fried eggplant, pickles, olives, hot peppers, etc. Humus is usually not added as humus is made from the same chickpeas as are the falafel balls (and humus tends to sour quickly in the hot Israeli weather).
Apparently, falafel originated in medieval Egypt where Christians there called "Copts" ate falafel balls (there made mostly from fava beans and not chick peas) during Lent. As the dish migrated east, chick peas which were grown locally, replaced fava beans.
The word falafel comes from the Semitic word pilpel (pepper) like small round peppercorns.
Now readily available in many parts of North America, this private tour guide in Israel contends that the best falafel is in Israel.
Where's the best place to eat falafel in Israel? That is the subject of many an argument between Israelis (and Palestinians) today.
If you Google "best falafel in Israel," your results are mainly from Israeli daily newspapers (like Ha'aretz) that publish food reviews which are, how to put this delicately, paid for by the food establishments themselves.
Locals know where the best spots are. As a local, here's my two cents:
In the north – Assal Falafel in Rosh Pinna. Ask anybody in the area where to get falafel (and also great humus) and they will direct you to the main traffic circle just off the main highway.
In Jerusalem – "Levy Brothers" have been in business since 1954. Situated in the Machneh Yudah market in Jerusalem (next to the Lottery stand), they are truly a head above the local competition. Note that their small stand in on Agrippas Street, not inside the market proper.
The best? Without a doubt, falafel Golani in my hometown of Afula is consistently chosen as the best falafel in Israel. Owner Dudu Levy named the spot in honor of his brother, a soldier in the famous Golani Brigade, who fell in battle in the 1973 Yom Kippur War.
Not only will you get a great mean for about $4.50, but there's a floor show, too!
Enjoy!